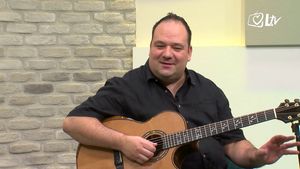 ANDREJ GROZDANOV AND WORLD GUITARISTS 
Gospel On Guitar 
Bono Records 
**** ½ 
Piše: Zlatko Gall
Vrijeme Korizme većina danas doživljava kao sezonsko skidanje kilograma ili čišćenje od nikotina i alkohola no za one druge kojima je milija meditacija album znanog gitariste Andreja Grozdanova "Gospel On Guitar" ponudio je idealan sadržaj. Točnije izniman album gitarske – hajmo ofrlje kazati – meditativne i duhovne glazbe s nadahnutim obradama novijih duhovnih pjesama, izvornog gospela (negro spiritual) i srednjevjekovnih tema. U izvedbi akustičnih gitara. Gitara u množini stoga što su se Grozdanovu priključili sjajni gitaristički gosti poput Phila Keaggyja (višekratnog laureata Guitar Player Magazina) u temi "The Mighty Fortress Is Our God" koja kao da je sišla s nekog od najboljih albuma britanskog folk-revivala šezdesetih ili jazz gitariste Johna Stowella koji je ostavio upečatljiv trag okađen gypsy swingom u "Just A Closer Walk With Thee". Nezaobilazni Vlatko Stefanovski gostovao je u amblematskoj gospel temi "Nobody Knows The Trouble I've Seen" s fluidnim pasažima, Enrico Maria Milanesi pokazao virtuoznog svojeg finger-pickinga u bluegrass stilizaciji "I'll Fly Away" a Martin Moro žanrovsko/stilske obzore proširio daškom bluesa u standardu "Oh Happy Day". 
Album je  pak zaključilo još jedno opće mjesto gospela "Swing Low, Sweet Chariot" s gostom Johnom Standfederom, velemajstorom fingerpickinga/fingerstylea "pročitano" kao melankolična i gotovo ambijentalna country-gospel tema. Naravno, preostalih šest brojeva odsvirao je sam Grozdanov (uz rtitam gitaristu i producenta Zorana Majstorovića koji je na albumu odradio sjajan posao) pokazavši osim neosporne tehnike i iznimnu dozu maštovitosti i dobrog ukusa koji eksplicitnim nabožnim skladbama daje naglašenu notu univerzalne duhovnosti ali također priječi prerastanje u instrumentalističko prenemaganje. 
"Gospel On Guitar" je stoga izniman album za ljubitelje akustičnih gitara, meditativne no istovremeno i uznosite  glazbe. Bez obzira jeste li vjernik, agnostik ili ateist.
ENGLISH:
"Gospel on Guitar is an exquisite album for the lovers of acoustic guitars. It is meditative but at the same time inspirational music. No matter if you are a believer, agnostic or atheist." 
"Brilliant spiritual music for believers and atheists alike." 
"Grozdanov showed not just undeniable technique but also an exquisite dose of imagination and good taste. It gives to these religious songs a note of universal spirituality but without instrumental affectation."